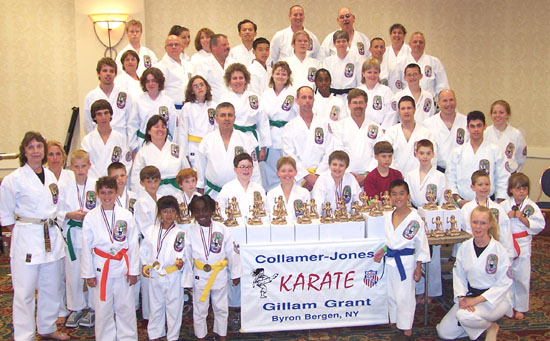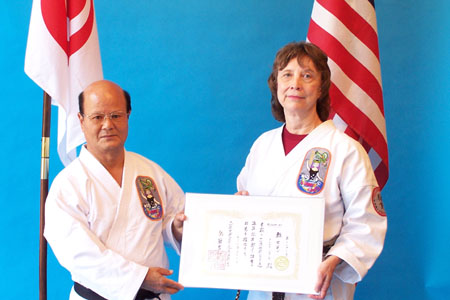 (Top) The 2005 IWKA CJ Karate Tournament Team and coaches with the 50 Mizu Gami trophies won in Akron, Ohio. (Lower) Master Shimabuku presents Kiyoshi-Go certificate to Shihan Jones.

WHAT IS NEW?
4/2/21: Index page and Karate Black Belts sections updated.


The Collamer-Jones.com martial arts page is updated on a regular basis as news, promotions and events warrant. You are most welcome to visit what is here today, bookmark it and return later as more information is added.
Collamer-Jones.com is a martial arts site. It contains information on the programs taught at Collamer-Jones Karate and affiliated schools which are located in the upstate New York area around Rochester, N.Y. News, promotions and events relating to the school can be found here along with a list of instructors. There is also some biographical information on the Masters and Head Instructors along with some history and content information for Karate, Kali, Jeet Kune Do and Iaido. This site also features links to other related sites, including those of school members and master teachers. The email address is below. The phone number is (585) 548-2801.
What You'll Find Here:
---
UPCOMING EVENTS:
---
Karate, Kali and JKD classes at the Collamer-Jones Home Dojo in Byron-Bergen, New York can be started any time. The Gillam Grant Comunity Center Spring Classes in Karate, Kali, Iaido and JKD conducted by Collamer-Jones Karate at the Center in Bergen, New York will start on Saturday, April 3, 2021. For information on future classes Call Hanshi Jones (585) 548-2801.
A KARATE BLACK BELT TEST was held on March 20, 2021. For information on future tests Call Hanshi Jones (585) 548-2801.
Because of Covid restrictions no dojo practice tournaments are currently scheduled at Gillam Grant IN 2021. Call Sensei Cynthia Smith (585) 259-5571 or Hanshi Jones (585) 548-2801 for information on .
---
Martial Arts Training Information
---
I, Cyndy Jones am the person constructing this Collamer-Jones.com website. If you wish to make comments or send me information, Email me at ETomJones@aol.com.