TRAINING WITH MASTER KICHIRO SHIMABUKU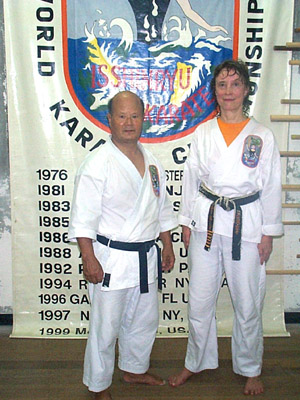 MASTER KICHIRO SHIMABUKU AND SHIHAN CYNDY JONES AT THE IWKA HEADQUARTERS ON OCTOBER 25, 2000
At the invitation of Master Kichiro Shimabuku, Tom and I travelled to Okinawa this October. While there we were royally entertained by Master Shimabuku and his wife Yoshiko. Every day Master Shimabuku showed us another part of his beautiful island of Okinawa. We saw the very moving Peace Prayer Memorial Park where everyone (Americans, Japanese, Okinawans) who died in WWII on Okinawa has their name written on large black walls like our Vietnam War Memorial. We walked through a fantastic underground cavern filled with stalagtites. We saw the Budokan, an art display and toured the ancient castle which serves as the symbol of Okinawa.
In addition to training at the IWKA Headquarters, we tested out a golf driving range, took a five mile walk through the beautiful park where Master Shimabuku runs ten miles three times a week. We also viewed the scenic shore of Okinawa and had a swim at one of the beautiful beach resorts.
The food on Okinawa was both excellent and interesting. The Shimabukus took us to a wonderful Japanese restaurant where we had tempora and tuna sushi. The dinner at their home featured an incredible variety of Okinawan specialties and ten-year-old sake. The "Welcome to Okinawa" party for us at the Dojo featured delicious marinated (Mrs. Shimabuku's recipe) steak, squid jerky, stuffed pastries, sausage and lots to drink. Interestingly, one lunch was a quick burger at a drive-through restaurant and another lunch was a Kentucky Fried Chicken buffet which had Japanese dishes as well as chicken.
The IWKA Headquarters with its lettering in both Japanese and English is an impressive sight as one approaches it for the first time (see pictures below). Master Shimabuku runs classes from 6:00 to 8:30 PM on Monday, Wednesday and Friday. Training started with a 20-minute run around the dojo, which is approximately 20 by 50 feet in dimension. This was followed by kicks and basics down the floor. There are many military bases on Okinawa, and one of the students at the dojo was a Marine named Tom Luke. He has been training with Master Shimabuku for seven months. He previously trained with Sensei John Hughes for seven years and is currently an advanced brown belt. Master Shimabuku speaks Japanese in the dojo, and while I could tell what he was doing I found it difficult to know how he wanted it done. For example, side kicks do in place or move down the floor, etc. Tom Luke was very helpful in this regard. I did what he did!
After these opening exercises, katas were performed as a group with counts. Then everyone sat in seisa while individuals did kata. I was brought up and introduced to the group. I don't know what Master Shimabuku said, but he did point to our 1994 tournament listed on the big Mizugami which hangs at the front of the dojo and everyone clapped. You can get an idea of what the inside of the IWKA Headquaters looks like from the pictures below. It is a stand-alone concrete building with no fans or air conditioning and a springy wooden floor. It has doors opening on three sides for ventilation. Okinawa is very hot and humid. I was, to say the least, warm! After training concluded and the younger students left, everyone sat out on the grass, talked and drank beer. It was a very special time to finally be in Okinawa after all these years of training in Isshinryu.
---
Pictures from Okinawa
IWKA HEADQUARTERS
TRAINING
AFTER TRAINING AND WELCOME PARTY
MASTER SHIMABUKU, MRS. SHIMABUKU, TOM LUKE
BUDOKAN, INSIDE, SITE OF AGENA DOJO
LONG WALK IN PARK
OCEAN
PEACE MEMORIAL
THE CASTLE
MASTER AND MRS SHIMABUKU WERE WONDERFUL HOSTS!
Return to the Collamer-Jones Home Page.