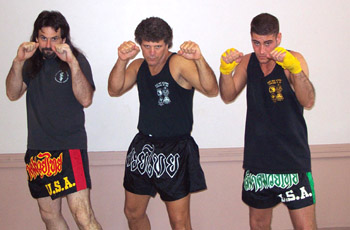 JIM KUNKEL(L) AND MARK STUTZMAN(R) PROMOTED TO INSTRUCTOR IN THAI BOXING. PICTURED WITH INSTRUCTOR KEVIN SEAMAN
After an intensive physical testing, Jim Kunkel and Mark Stutzman were promoted to Instructor (Level III) in Muay Thai (Thai Boxing). Kunkel and Stutzman were promoted by Ajarn Chai Sirisute president of the Thai Boxing Association of the USA (see link below). Both trained with Kru (teacher) Kevin Seaman of Cortland, New York who is the New York State representative of the Thai Boxing Association of the USA (see link below). Their promotion is an honor for the Collamer-Jones Karate School and plans are underway to start a Thai Boxing program here.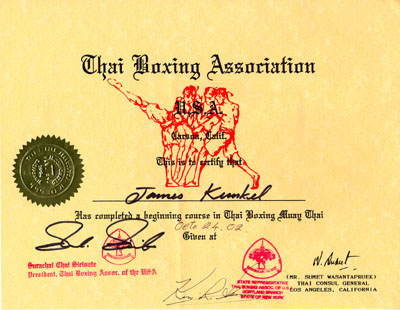 Kru Jim Kunkel was awarded this Thai Boxing Teaching Certificate on October 24, 2002. .
---
As the Thai Boxing program at Collamer-Jones Karate progresses, more details on the content and times will be added to this page. Test requirements for Level I & II are those used at Kru Kevin Seaman's East West Martial Arts Academy in Cortland, N.Y.(see link below). Level III tests and requirements are determined by Ajarn Chai Sirisute. For information call Collamer-Jones Karate at(585) 548-2801 or Kru Jim Kunkel at (585) 494-1122 or E-mail us at Collamer-Jones Karate.
Kevin Seaman can be reached by calling either (800)343-WEST. His address is Sifu Kevin Seaman, PO Box 762, Cortland, New York 13045.

Go to Thai Boxing Association of the USA.
Check out Kru Seaman's webpage for additional information. Go to Kru Kevin Seaman.
Return to the Collamer-Jones Home Page.