The idea for Hanshi (Sensei) Cyndy Jones to start a karate school came from Master Kichiro Shimabuku during his 1985 tour of the United States. At the time, Master Shimabuku was visiting the Mazzochetti Karate School in Penfield, N.Y. where Sensei Cyndy Jones was a business partner and instructor. Master Shimabuku visited Sensei Jones home in Byron, N.Y., was impressed with the Bryon-Bergen area, proposed that Jones start an Isshin-Ryu World Karate Association (IWKA) school there, and offered his help.
In response to Master Shimabuku's offer, Collamer-Jones Karate, Inc. was incorporated in 1986 by Sensei Cyndy Jones. It is a N.Y. State S-Corporation and an IWKA school. Jones is, of course, Sensei Jones' married name. The name Collamer is a family name and was Sensei Jones' middle name when she was growing up. Her maiden name was Geer.
The first karate classes were taught in the summer of 1986 at the Collamer-Jones Home Dojo which is located in Bryon, N.Y. and at the Gillam Grant Community Center in Bergen, N.Y. In the fall of 1986, classes were started at the Eastman Kodak Company, Rochester, N.Y. Since then Collamer-Jones Karate instructors have started classes in Batavia, N.Y., Brockport, N.Y., Fairport, N.Y. and Thomaston, Connecticut. Also, two basic karate gym programs are taught for credit at the Genesee Community College in Batavia, N.Y.
Since its inception in 1986 as a karate school, Collamer-Jones Karate has expanded its program to include classes in the Filipino Martial Arts and Iaido. The school also offers a four-part seminar series on women's self-defense which has been taught for many organizations and schools on a contract basis. In addition, customized programs combining exercize and martial arts strategy for business organizations are available. One such example is the program developed for the Six Sigma Program at Eastman Kodak.
The Collamer-Jones Karate patch and motto were selected by Sensei Cyndy Jones to represent her ideals and hopes for the school. The circular shape was used to represent that there is no end to karate training. It is meant to be for life. It also represents the cycle that the student becomes the teacher and gives back to other students. The circle also symbolizes all the members of the school, who are expected to work together smoothly. The gray background represents calm, peace, and tranquility - all aspects that a practitioner can obtain from karate training. It can also represent a mirror indicating that what happens in the karate dojo reflects how we conduct ourselves in life. The red border represents fire, energy and the ability to quickly spring into action to defend oneself.
The "The Winning Way" motto is at the center of the patch. It was translated into the Japanese kanji for "Shobu" by a Japanese exchange student who was living with Sensei John Drouin's family. Sensei Drouin, who is Sensei Jones' Iaido Instructor, helped her with the design of the school patch. Each person who trains in karate wins in different ways. For everyone, it should give improved physical conditioning and mental alertness. Improved self-confidence and self-esteem benefit some while others learn humility and the joy of helping others. Sensei Jones used karate training to recover from a serious illness and believes all can win with karate as she did.
Hanshi (Sensei) Cyndy Jones began training in Isshin-Ryu Karate under Sensei Joe Fontana in 1981. During that time she also trained with Sensei Kevin Murray at the Jennings Karate Academy as well as with Sensei Debbie Mazzochetti at Mazzochetti Karate, Ltd. in Penfield, N.Y. In 1984, she earned her Sho-Dan degree in Isshin-Ryu Karate and continued to advance through the ranks. In 2001, Hanshi Jones was most honored by Master Kichiro Shimabuku when he promoted her to ShiChi Dan, seventh degree black belt and gave her the title of Shihan. In 2005, Master Shimabuku promoted her to Kiyoshi-Go. Master Shimabuku promoted Hanshi Jones to Hachi Dan, 8th Degree Black Belt on April 15, 2007. Master Shimabuku promoted Cyndy Jones to KuDan, 9th Degree black Belt on February 26, 2012 and gave her the title of Hanshi in September, 2013. On July 22, 2016 Hanshi Cyndy Jones was inducted into the Isshin-Ryu Karate Hall of Fame.
Hanshi Jones trained in Kyokushin Karate under Shihan Mike Monaco, advancing to the rank of second degree black belt in 1989. Jones earned a fourth degree black belt in Iaido from Shihan John Drouin in 2003. In 2000, Jones was promoted to full instructor in the Filipino Martial Arts under Guro Kevin Seaman and on 2012 to Senior Instructor. In 2002, Sifu Seaman promoted Hanshi Jones to Black Sash in Jun Fan/Jeet Kune Do, in 2006 to Full Instructor in JKD and in 2012 to Senior Instructor. She has also trained in Thai Boxing and Tai Chi.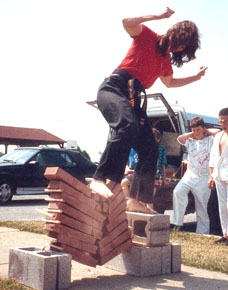 Shihan Jones breaks 8-blocks.
Return to the Collamer-Jones Home Page.
Go to Filipino Martial Arts