SOME HAPPY WINNERS FROM OUR FEBRUARY 17, 2002 TOURNAMENT
---
The Collamer-Jones Karate preseason AAU Karate Tournament held on February 18, 2001 at Brighton High School was a big success. The main purpose of the tournament was to raise money to send a tournament team to Master Shimabuku's IWKA Championship. Proceeds after expenses were a record $4,400, which will be a big help.
A second goal of our annual tournament is to function as a practice tournament for competitors, coaches and referees. The new addition of an assisted kata division for children ages 5&6 was a big hit. The 145 athletes, including 54 of our own, who competed all had a chance to hone their kata and fighting skills. The referees and coaches likewise used this opportunity to evaluate competitors and students. The large number of spectators got to see plenty of action and enjoy some good food.
A tournament of this size requires much work before, during and after the actual event. A special thanks is due Matt Dorsey, our Region I AAU Karate Chairman, and all of the AAU referees. We could not conduct the tournament without them. A super thank you to Sensei Tammy Genagon who managed this event with me. Much gratitude is due also to Sensei Merrie Lou Nagel, Sensei Jim Suter and all the other Collamer-Jones sensei, students and family members who made this event possible. My husband Tom Jones deserves recognition also for his attention to keeping all the financial and registration records in order for us. Lastly, I (Shihan Cyndy Jones) want to thank all of you who competed and showed us what great karate is all about.
Pictures from the February 18, 2001 Tournament
DECEMBER 2, 2000
Pictures from the Gillam Grant Christmas Demo
OCTOBER 6, 2000
Shihan Cyndy Jones was awarded a Jun Fan/Jeet Kune Do Instructor Teaching Certificate by Sifu Kevin Seaman on October 6, 2000.
---
SEPTEMBER 10, 2000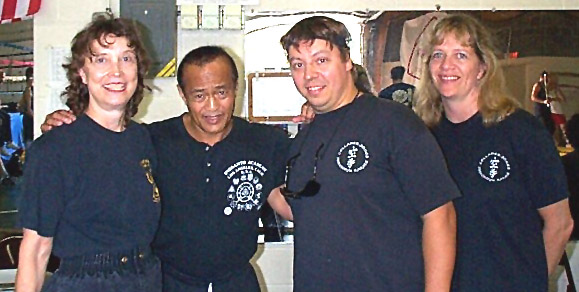 SHIHAN CYNDY JONES, GURO DAN INOSANTO, SENSEI DAVE RIEDEL AND ANNETTE CAPPON ON SEPTEMBER 10, 2000
Shihan Jones, Sensei Dave Riedel and Annette Cappon attended Guro Dan Inosanto's seminar in Cortland on September 10, 2000. Guro Inosanto was personally chosen by Bruce Lee to carry on the techniques and philosophy of Jeet Kun Do. The three enjoyed and benefitted from the training in Jun Fan, Kali and Shoot Wrestling. The seminar was hosted by Sifu Kevin Seaman at his East West Martials Academy. Sifu Seaman will do a seminar at Gillam Grant for our school on November 19th. Save the date.
---
SEPTEMBER 9, 2000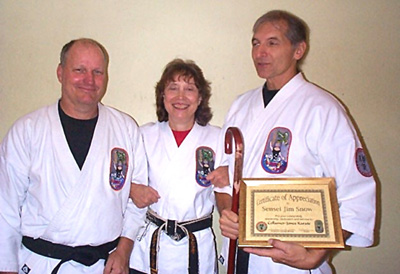 SENSEI TIM GERSEY, SHIHAN CYNDY JONES AND SENSEI JIM SNOW (with certificate and fighting cane gift)
On September 9, 2000, Shihan Cyndy Jones announced that Sensei Tim Gersey, a third degree black belt, would take over the teaching responsibilities for the Saturday karate adult program. Sensei Laura Armstrong, a second degree black belt, will continue to teach the Saturday youth karate program.
Sensei Jim Snow, a fourth degree black belt, is unable to continue teaching on Saturdays as his father, who lives out of town, requires his attention. Sensei Snow will teach on Saturdays when he can and after eight years will miss seeing all the students on a regular basis.
Shihan Jones expressed her gratitude and that of the Collamer-Jones Karate School to Sensei Snow for his distinguished service, outstanding teaching and leadership in the running of the Saturday program over the last eight years. Sensei Snow was presented with a certificate of appreciation and the gift of a specially carved fighting cane.
---
SENSEI MEGHAN LESTER OFF TO COLLEGE 8/24/00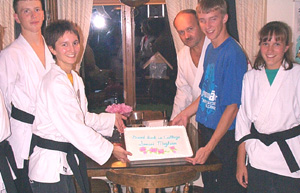 A party was held on August 24, 2000 at the CJ Dojo after class to wish Sensei Meghan Lester (left) good luck at college. She will be missed.
---
AUGUST 4 , 2000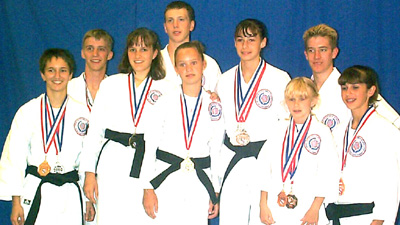 The 2000 Junior Olympic team: (front row left to right) Meghan Lester, Melissa Suter, Amy Kohler, Alana Armstrong, Alexa Armstrong, Alyssa Armstrong (back row left to right) Chris Hill, Jamie Suter, Matt Walsh.


The nine member competition team pictured above travelled to Orlando, Florida and competed on July 29 and 30 in the 2000 AAU Junior Olympic Games. They were accompanied by Team Manager Sensei Tammy Genagon and Coaches Sensei Laura Armstrong and Sensei Jim Suter. They won 14 medals as shown in the table below. Congratulations to both competitors and coaches.



JUNIOR OLYMPIC RESULTS
COMPETITOR
WEAPONS
KATA
SPARRING
AMY KOHLER
-
-
GOLD MEDAL
ALANA ARMSTRONG
SILVER MEDAL
4TH PLACE MEDAL
BRONZE MEDAL
MEGHAN LESTER
4TH PLACE MEDAL
4TH PLACE MEDAL
SILVER MEDAL
MELISSA SUTER
-
-
SILVER MEDAL
ALEXA ARMSTRONG
-
BRONZE MEDAL
4TH PLACE MEDAL
CHRIS HILL
BRONZE MEDAL
-
BRONZE MEDAL
ALYSSA ARMSTRONG
-
-
4TH PLACE MEDAL
MATT WALSH
4TH PLACE MEDAL
-
-
JAMIE SUTER
-
-
-
---
MEDALS WON AT AAU NATIONALS JUNE 30, 2000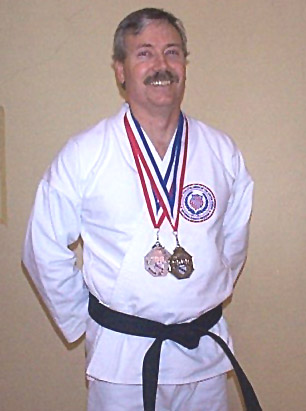 SENSEI TOM STORY WITH HIS AAU MEDALS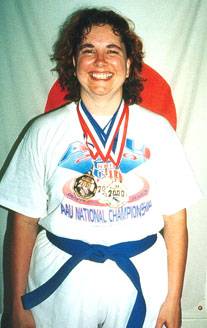 CYNTHIA SMITH WITH HER AAU MEDALS
Return to current news section.
Return to the Collamer-Jones Home Page.